LED SIGNS AND VMS
BOARDS FOR HIRE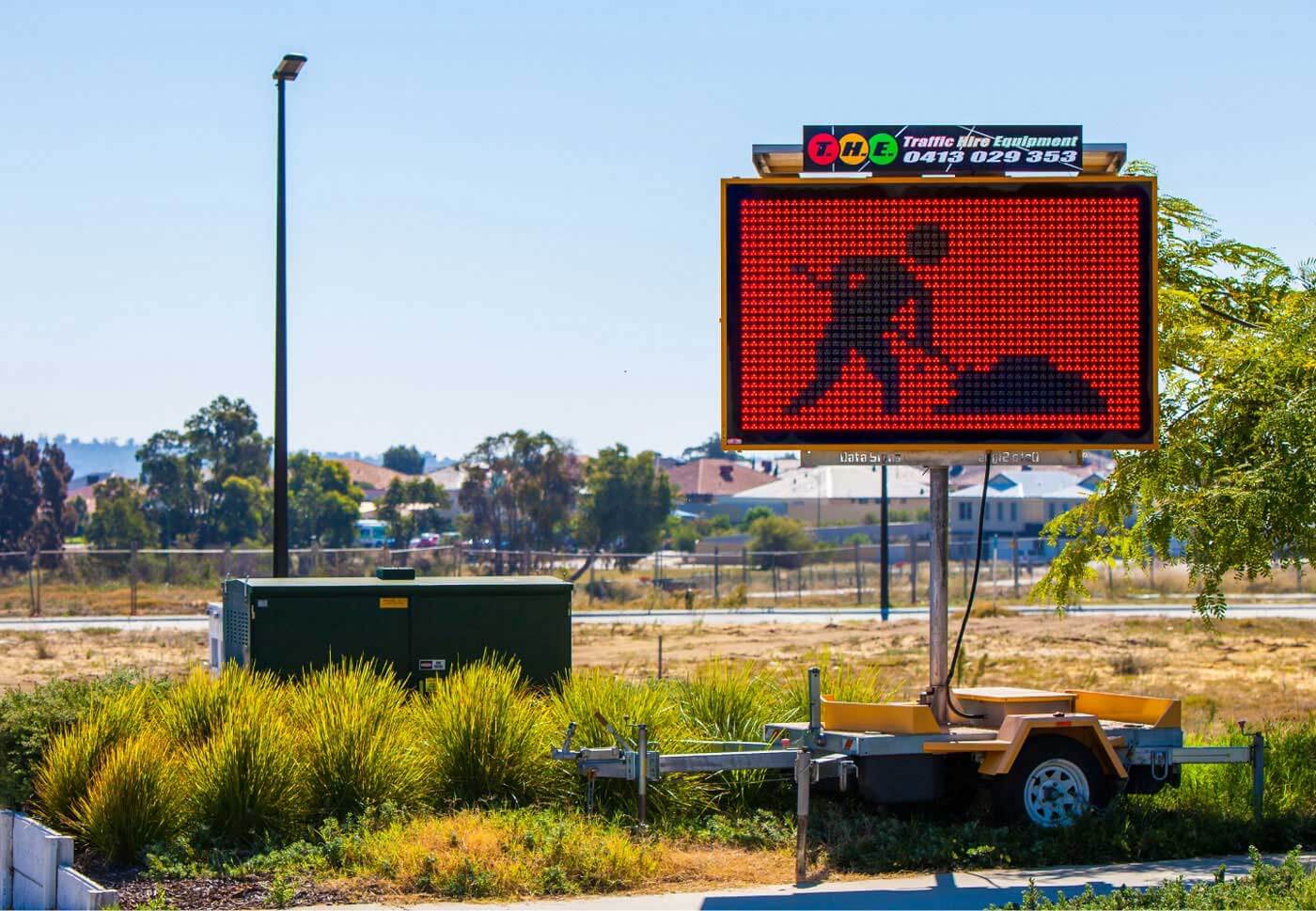 DIGITAL SIGNAGE
WHERE AND WHEN

YOU NEED IT.
Variable message signs are a dynamic way to capture attention and make a vivid statement. Whether you're a traffic management company needing an effective way to communicate altered speeds and roadwork information, or a retailer wishing to promote a special event or product, Traffic Hire Equipment Perth has a range of digital signs will boldly display your message.
Electronic signs provide amazing flexibility and visibility. Unlike static signs, Traffic Hire Equipment Perth has signs which allow you to add moving elements or scroll between messages. Our Boards are also highly customisable. The latest and most innovative board added to the Traffic Hire Equipment fleet is our Video Boards. This product allows you to upload high resolution images and logos for maximum visual impact
VIEW PRODUCTS
At Traffic Hire Equipment we work hard to be one of the best VMS Board providers in Perth. Whatever your signage needs, we'll go the extra mile to make it happen and do our best to ensure your signage attracts maximum attention.
NEED A SIGN
TODAY? NO WORRIES.
At Traffic Hire equipment we understand last minute jobs crop up, so if you need a Board today, we'll go above and beyond to make sure you get one. Traffic Hire Equipment can also upload your messages or changes within hours. Our quick response time is part of our service and why our customers keep coming back to us for their signage needs. Give our local Perth office a call today on 1300 843 867 (free call).
At Traffic Hire Equipment Perth we supply and deliver our boards anywhere in Perth and to many regional areas. For more information or to arrange VMS board hire, get in touch with our local office today.
or
contact us
"I would have to say a 5 star customer service. Angelique and the team at Traffic Hire Equipment go the extra mile for their customer's needs. Very prompt service and always lovely to deal with."
"The Traffic Hire Equipment (THE) team go above and beyond for each and every project. They provide the newest and highest standard of equipment. Their knowledge when it comes to planning the advertising for our Council events has been invaluable. The whole team at THE are hardworking, reliable, pro-active and go above and beyond."